This post was originally published on this site
A look at different types of e-learning platforms, necessary user features, and helpful development tips.
The latest report from Forbes claims that the e-learning market can reach $325 billion by 2025. So it can be profitable to start such an educational business. However, to achieve success, you need to offer users some unique opportunities.
Let's explore some essential steps and features needed to create a successful e-learning Website.
Types of E-Learning Websites
These days, there are a lot of popular educational platforms such as Coursera, Udemy, and Udacity. All of them offer various types of learning materials (e.g., videos, articles, games, podcasts, etc.).
All of them have various business models. Let's compare Coursera and Udemy to understand the difference:
Coursera:

This platform cooperates with various colleges and universities such as the University of Michigan, Stanford, and others. There are many learning materials that visitors can use for $39 to $79 per month. Also, Coursera offers more than 1,100 free courses.

Udemy:

This learning service offers many training programs. They tend to be shorter in comparison to Coursera's. Udemy allows users to publish learning materials after the verification process. It doesn't take a lot of time but guarantees the quality.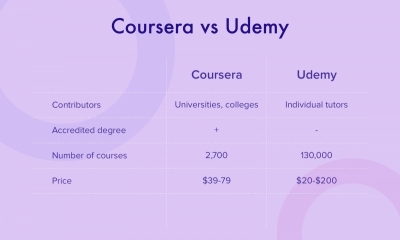 Must-Have Features of an E-Learning Website
Every e-learning platform should have a set of core features to satisfy users' needs and expectations. You can start development by creating several features and release the app. Once you get feedback from users, it's a good idea to upgrade the platform and add more advanced features.
Essential features include.
1. Sign up and profile editing
To start working with a platform, every user should sign up. It's better to offer several convenient variants, e.g. e-mail and password, Google, or a Facebook account.
As for profile editing, you can provide an opportunity to set a profile picture, add cards, see the list of courses, etc.
2. Flexible searching
Any learning platform offers various courses. It should be easy for users to pick the program they're interested in. So you should integrate different filters (level, price, language, etc.), along with a search bar.
3. Dashboard
The dashboard allows for managing the courses and tracking progress for both students and teachers. As a result, users have convenient access to all their actions.
4. Course page
It's typical for a course to have various studying materials (e.g., videos, articles, podcasts, and more). You need to provide customers with a user-friendly interface, so they can find all the course parts easily.
5. Payments
Most business models point to offering paid courses. It's better to integrate a flexible payment system that allows students to pay and teachers to receive their earnings. When working with payments, you need to consider security. It's common to cooperate with such providers as PayPal or Stripe.
6. Creating a course
It is key to develop a user-friendly page for creating a course. Teachers need to be able to easily add and edit course details.
7. Notification
To keep users engaged, you need to remind them about new courses, events, or other updates. It's common to send e-mails with all the news. However, such messages often can be irritating or unengaging. But weekly reminders or personal recommendations can be helpful.
Steps to Make an e-Learning Platform
There are three main steps to follow to ensure building a successful e-learning Website:
1. Study your target audience
You need to understand users and their needs. Knowing such data as age and hobbies will allow you to offer more personalized content.
Additionally, study your competitors. Analyze their courses, training programs, and learning materials. This can help generate more ideas about the functionality of your service.
2. Hire developers
After planning and studying, you need to find experienced developers. These days, it's common to cooperate with software development companies or hire in-house developers.
Each option has pros and cons. For example, outsourced companies tend to have more affordable hourly rates. But you can face time zone issues.
In-house software builders are more expensive since you need to pay for taxes, purchase hardware, and software. However, you can communicate with a team 24/7.
There are various platforms where you can read reviews about different outsourcing companies:
Deciding on the type of team depends on your project requirements and business goals.
3. Engage qualified tutors
One more crucial thing is cooperating with excellent teachers who can offer unique and exciting content. Collaborating with universities or colleges is one option. For example, MasterClass, an educational platform, offers content from famous people such as Marc Jacobs and Neil Gaiman.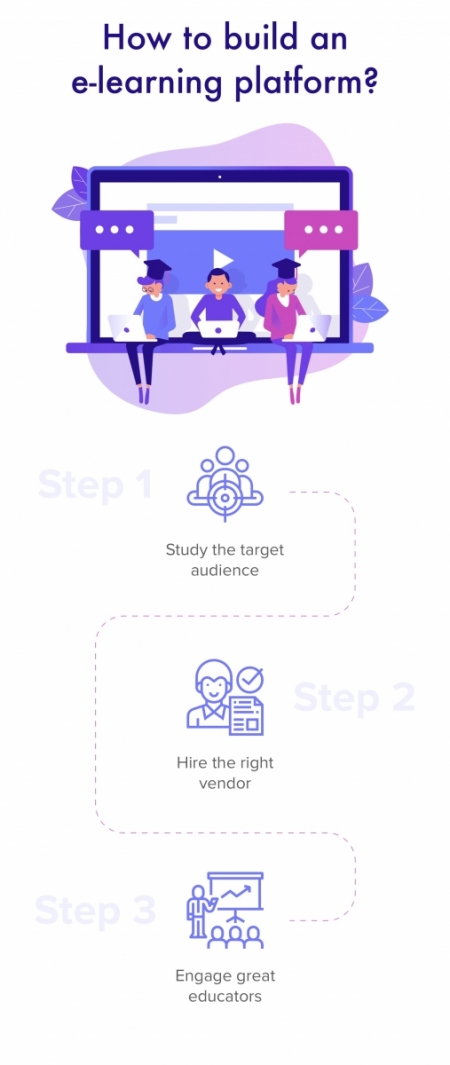 Cost to Create an e-Learning Platform
Web development cost tends to depend on two factors: the complexity of the features and the team's location.
Clearly, the more advanced features you want to develop, the more time developers need. As for the location, there are countries in Eastern Europe with affordable hourly rates ($50 per hour). Developers from North America usually get higher rates (approximately $130 per hour).
You can check the rates on platforms such as Clutch and Codementor.
To figure out the development cost, you need to discuss your project requirements with a specialist.
It can be time-consuming and tricky to develop a successful e-learning service. You need to hire a qualified and experienced team to develop a Website or Web app. And it is crucial to work with excellent tutors who offer knowledge on a variety of topics.
Vitaly Kuprenko is a technical writer at Cleveroad, a Web and mobile app development company in Ukraine. He enjoys writing about tech innovations and digital ways to boost businesses.