This post was originally published on this site
The Victorian Minister for Training and Skills, the Honourable Gayle Tierney formally opened the new VET Development Centre training facilities at the official opening ceremony held on Wednesday 4 July 2018 at 379 Collins Street, Melbourne.
In the opening address, VDC Chief Executive Officer Martin Powell welcomed the Minister and highlighted the unique position the Centre has in the VET Sector as part of acknowledging the other dignitaries in attendance which included; Steph Ryan, Shadow Minister for Training, Skills and Apprenticeships; the Victorian Skills Commissioner, Neil Coulson; the Acting Deputy Secretary of the Higher Education and Skills Group DET, Lee Watts; Lynn Glover, CEO of the VRQA; and TAFE, Private RTO, Learn Local and Peak Body executive representatives.
The Minister commended the VDC for its clearly defined professional development role that is embraced by the whole sector, and provides a welcoming environment for the public, the private and the community VET workforce to interact.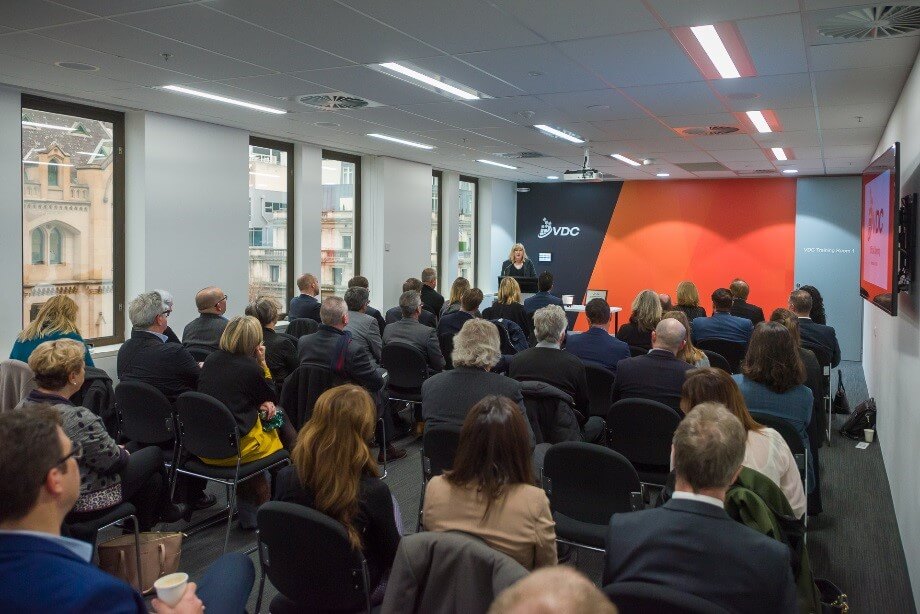 The consistent and committed support provided by the Victorian Department of Education and Training (DET), as well as board members, staff and the vast number of presenters, content experts and professionals that have been involved with the VDC since its establishment in 2005 has helped to get the organisation to where it is today.
This combined effort is now symbolised in centrally located best practice training facilities and builds the platform for the VDC to become a centre of excellence for workforce development, the vision for the organisation by 2020.
VDC Board Member Belinda McLennan highlighted that the establishment of training facilities was prompted by the fact that the VDC has grown from hosting 5 PD events in its first year in 2005, to over 295 PD events in 2017.
The VDC has welcomed the opportunity provided by DET to increase the funded continuous professional development programs for Skills First providers under the 2018 Strategic Work Plan.
The increased PD support for developing Skills First training providers' ongoing professionalism can now be supported by the establishment of the permanent training facilities, which provide the VDC and DET with an efficient and best practice model to deliver consistent, high-quality, training opportunities for the VET Sector.
The Board also acknowledged the vision and considerable effort of the VDC Chief Executive Officer Martin Powell, who developed the business case and rationale for the establishment of this venue and ably supported the Board during the transition. Martin and the VDC team continued to manage the largest PD program delivered by the VDC – and streamlined business, marketing and corporate practices to enhance and stimulate engagement with the VDC by the professional workforce and other stakeholders during this time.
The Board has identified a new set of strategic goals and an ambitious agenda for the building the capability of the VET professional workforce to support the Victorian Government's Education State Skills First initiatives. The VDC 2017 Annual Report and 2018-2020 Strategic Plan are available at http://vdc.edu.au/about-us/