This post was originally published on this site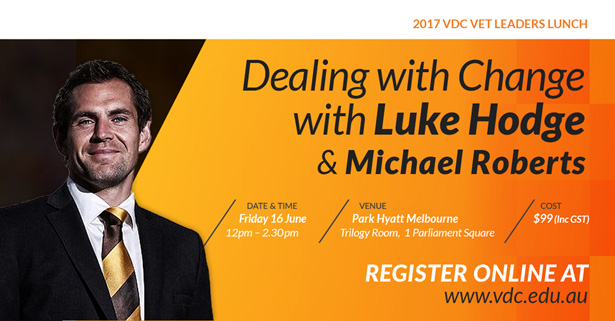 The VDC VET Leaders Lunch has become a tradition in the Victorian VET Sector and provides guests with the opportunity to network with peers and discuss the latest trends and developments in the sector.
The VET Development Centre (VDC) is honoured to present AFL champion Luke Hodge as the guest speaker at the upcoming VDC VET Leaders Lunch. As the former captain and current leader at one of Australia's most successful professional sports clubs, Luke will be interviewed by TV and radio personality and former AFL player Michael Roberts on dealing with change and the challenges of building team culture and sustaining success. The intimate setting of the Park Hyatt's Trilogy room in Melbourne provides an opportunity for attendees to engage with Luke and Michael and consider parallels with your organisational challenges and successes. For registrations please click here or contact Susanna Palermo on ph. 1300 917 150 for table bookings.